Harrah's
in Atlantic City, NJ. We were excited beyond words the whole ride down, and even more thrilled that our two friends Katherine and Nicole were about two hours behind us. We booked a room two weeks prior in the harbor tower, one of the older ones of the four existing, but still awesome. It had two queen size beds and a couch, perfect for the four of us, plus our friend Alyssa was meeting us down there on Thursday night and she is the perfect hotel couch sized person.
We explored the main floor for a bit while we waited for Katherine and Nicole to get there, and made our first purchases at the Pandora store. We both bought the exclusive (to AC and Vegas) dice
charm
, which is something I was on the fence about because I don't wear my bracelet all too often anymore, but I knew that I only had room for one more charm and when I worked with Pandora product I always thought how fun it would be to have that one, so I caved. It's really adorable and will remind me of my trip for sure.
After the girls got to the room, we went down grab a quick something for dinner before trying our luck at the slots and getting ready to go out that night. I am not much of a gambler because I don't make
that
much money, so I put five dollars into a slot machine and on the first night I lost all but 20 cents. Katherine did the same and ended up breaking even. It was the luck of the Irish apparently.
instagram
or
twitter
, you can probably guess what I'm talking about. Then we met K & N at the Pier Shops in Caesar's Palace. Holy moley that hotel is large and in charge. It was pretty overwhelming just following the signs to get to the shops. While we were on the second floor we noticed the beach right below us and a sandcastle building contest, so we walked along the boardwalk to the beach to check it out.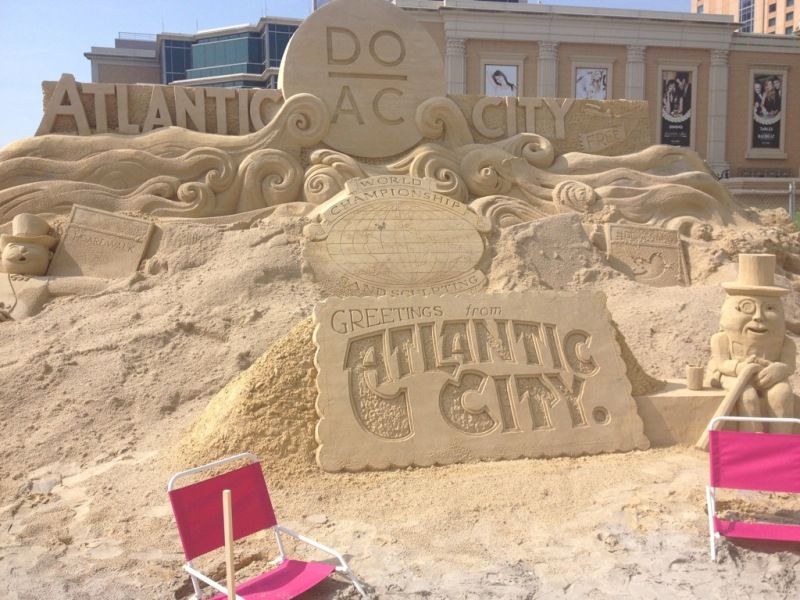 We only saw the very beginning stages of the building process for the World Championship Sand Sculpting competition 2013, but the artists had created this awesome sculpture together that people could see when they first walk down to the beach, and to take pictures in front of. That was one of the coolest things because apparently this competition is a really big deal, and we didn't even know it existed, let alone that it would be down there when we were. After that, we headed back to the hotel, got beautified, and went to an amazing dinner at Dos Caminos, the hotels tequila bar and Mexican restaurant.
again
, we decided to head to the Tanger Outlets down by where the club was the night before, and do a little bit of shopping. I bought a few goodies for my hair and got a free iced tea from starbucks because the barista was practicing making drinks. Awesome. By then it had turned out to be a pretty nice day, so it was beautiful out while we kept walking around the shops. We went to dinner at the hotel, which was delish (all of the food we ate was so good), and we had jello shots for dessert to kick off our night, as you do in AC.